ITV is a British television network, that is well-known for airing shows such as The X-Factor and Coronation Street and was the original home of Love Island, before it's return in 2015.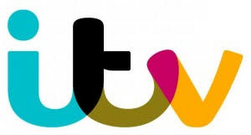 Celebrity Love Island
Celebrity Love Island was aired on ITV, for 2 seasons from 2005-2006 and featured a selection of celebrity islanders competing together, instead of the civilians that would appear in the 2015 reboot of the show on ITV2.
Love Island
In 2015 the ITV production company commissioned Love Island for a return to TV, with Caroline Flack as the hostess and Iain Stirling as the narrator. The show would be aired on the channel's sister channel; ITV2 and would feature members of the public taking part instead of the celebrity contestants from the original show.